Recorded Erotica
Fetish Photos
Phone Domination
"Diddlefreak Asylum"
Welcome to Diddlefreak Asylum. You have been admitted to this institution because you are a perverted weirdo. You are addicted to porn, and you play with your genitals all the time. You are obviously a sexually abnormal person, and need to be forcibly committed to a private, locked and closed residential treatment facility for incurable compulsive masturbators.
At the Asylum, you will be subjected to an intense, psychologically-invasive brainwashing program, which will include daily, prolonged sessions of tease and denial, erotic humiliation, demasculinization, and mind-fucking.
Because you are such a pervert that you have been forcibly admitted, you are unable to leave the Asylum until the doctors and nurses agree that you are permanently incapable of being a diddlefreak pervert ever again. Of course, we will never agree that you are "fixed," because our real purpose is to just make everything worse. And you won't want to leave, even if we were to grant you release. You will not know how to live in the real world ever again; the Diddlefreak Asylum is your new life.
Includes: hypno-programming, intense humiliation, complete orgasm control, mind-fucking, behavior modification, being institutionalized, being monitored, twisted psychotherapy, bondage, helplessness, degrading punishments, forced bi, financial domination, sci-fi elements. 30 mins. for $34.99
Listen to "Diddlefreak Asylum" Sample
Click Here
"Diddlefreak"
In this humiliation file, Goddess Lycia brutally humiliates you for being a diddlefreak with Constant Diddling Syndrome. Sure, Iím the one who did it to you, but apparently you wanted it, lol. You were turned into a diddlefreak by Goddess Lycia, and now you will be ridiculed for it. Go ahead and diddle your retarded heartsie-peenie while I mock and laugh at you. You will become even more of a depraved weirdo pervert as you diddle to my verbal abuse about what a truly ridiculous circus freak of a diddle slut you have become.
Other files referenced in this session include Constant Diddling Syndrome, Humiliation Brainwashing for Perverted Weirdos, and Internet Loser Lifestyle.
Includes: humiliation, verbal humiliation, verbal abuse, brainwashing, mindfuck, mindfucking, mocking, ridicule, laughter, findom. 26 mins. for $29.99
Listen to "Diddlefreak" Sample
Click Here
"Constant Diddling Syndrome"
This is a Femdom hypnosis audio session that will turn you into a compulsive masturbating pervert, who is also humiliated about the fact that heís a compulsive masturbator. Your life, from now on, will revolve around your need to play with your genitals as often as possible. When you are in public, youíll have to find nooks and crannies to secretly diddle in. It doesnít even matter if you cum or not, you just have to be fondling yourself as often as possible, because thatís that best feeling in the world. You will choose masturbating over any other possible activity, which will turn you more into a perverted weirdo who can never escape his addiction. Haha, sweetie; youíre going to buy this and itís going to WORK. Welcome to CONSTANT DIDDLING, LOL.
Note: This is an excellent companion file for "Compulsory Cum Tax!"
Includes: femdom hypnosis, brainwashing, mind control, compulsive masturbation, humiliation, really intense humiliation. 25 mins. for $29.99
Listen to "Constant Diddling Syndrome" Sample
Click Here
"Adorable Little Pathetic Penis"
This humiliation audio session is based on a request from an admirer:
I think it would be super hot if you made a combo sph/tease and denial recording where you tease and tickle my adorable little penis while you laugh about how small it is and talk about how much you love to be fucked by big cocks and how you love to taunt and tease my cute little wee wee without ever letting me cum. After all, it only makes sense that if little penises can't make women cum, they shouldn't be able to cum either. Maybe even lock me up in chastity at the end as punishment for having such a useless penis.
In the beginning of the clip, tell me how you (and girls in general) love little penises because they're so cute and how you love to play with them. Make it seem (without actually saying so) like I might get some sort of release. You tell me to take off my underwear and show you my penis, and when I do you start giggling and telling me how cute and little it is. You're so excited about seeing it and playing with it that I'm convinced that you must want to at least give me a blowjob, but as the clip progresses it becomes clear that you only love my little wee wee because it amuses you endlessly. You think it's so funny when my itty bitty penis gets all excited and you love denying me and keeping me on edge. You treat it like an adorable little pet, lightly giving it kissies and petting it and tickling and teasing it, maybe giving it an occasional lick if I'm a good boy. Lots of "tickle, tickle, tickle" on my little guy.
You pretend to be sympathetic to my need to come ("aww, poor baby") but then you just giggle and tell me that my tiny penis isn't allowed any orgasms because it is unable to provide orgasms to women. I complain and beg but you respond by telling me that I should be a good boy and appreciate that you even give me kissies and tickles and licks, threatening to stop if I complain too much. As you tickle and tease me you talk about the pleasure I would be able to experience if I had a big cock, explaining in detail how women love sucking and fucking big, thick cocks and how much they crave having their pussies filled completely. You talk about all the hot, sexy girls I would be able to fuck if I had a big cock, and how those sexy girls think little penises like mine are just cute little pets to be teased, taunted, and denied. Near the end of the clip, you lock me up in chastity to make sure that I'm unable to masturbate before our next tease session.
Includes: small penis humiliation, humiliation, tease and denial, edging, tickling, laughing, cutesie talk, condescending Mistress, mock sympathy, mind fucking, chastity. 30:23 mins. for $29.99
Listen to "Adorable Little Pathetic Penis" Sample
Click Here
"Hypno Blackmail Training"
This Femdom hypnosis session will ultimately cause you to be fully enslaved to me through blackmail. It will train you to readily give up information to me that can be used for blackmail, and once you have completely bared everything to me, you will have achieved the amazing feeling of total ownership and humiliation. The feeling of degradation will be overwhelming and permanent. I will be the only person who arouses you, because I will be the only person with this immense level of blackmail information about you.
You will also be conditioned so that every time you listen to this hypnosis session, you will need to give up two pieces of information. One will be a secret, something that you feel is embarrassing or shameful; something you don't want any person in your life to find out about. Suggestions could be things like masturbation habits, things you've put in your ass, your interaction with Pro Dommes and Phone Dommes, wearing lingerie, being in chastity, fantasizing about women in your life, and sexual encounters with other men. Over time, the confessions will be more humiliating, and include photographs and videos of your confessions.
Each time you reveal a humiliating secret, you must also give up a piece of your normal life, such as where you work and the name of your boss, the name and e-mail of your wife or girlfriend, and basically any and all information about how I can contact the people who you would be most fearful of me exposing you to. For example, you admit that you have bought dirty panties from online Dommes so you could smell them while you masturbate, and you also reveal the name and email of your wife's best friend. When both are sent together the shame will be intense.
You will be taught to be greatly aroused by the humiliation of sending the information, the knowledge that I know this information about you, the fact that I will torment you by reminding you that I have this information, and that I can force you at any time to perform for me. I will demonstrate my complete control over you. By knowing so much information about you, I will become a bigger and more important part of your life. I will have more control over you each and every day, which is what makes you more humiliated, aroused, and hard. Ultimately your life will become one of complete fear and humiliation, which turns you on more than anything. I will require you to do more and more humiliating and dangerous tasks in order to avoid blackmail, which will only give me more information to blackmail you with!
Includes: femdom hypnosis, mind control, brainwashing, blackmail, humiliation, enslaved to me, completely controlled by me. 30:47 mins. for $29.99
Listen to "Hypno Blackmail Training" Sample
Click Here
"Humiliation Brainwashing for Perverted Weirdos"
Admit it: you LIVE for humiliation. You need to be embarrassed and shamed, and turned into more of a perverted weirdo by Goddess Lycia. This is what you want and what you crave. You are a humiliation junkie who NEEDS to be mind fucked beyond repair and turned into a whole new creature. WOW, you are horny already, knowing how much I am going to arouse you and manipulate you with my unique brand of INTENSE erotic humiliation and psychological reprogramming.
You will need a lipstick, lip-liner, or marker that is either pink or red (for a body writing task), a mirror (preferably full length), and a humiliating item of clothing or accessory.
Includes: humiliation, body-writing, humiliation tasks, verbal abuse, financial humiliation, mind-fucking, sissification, masturbation instruction, tease and denial, orgasm denial, brainwashing, fetish conditioning, perverted weirdo rituals 32:48 minutes for $34.99
Listen to "Humiliation Brainwashing for Perverted Weirdos" Sample
Click Here
"Small Penis Traumatization"
Emotional manipulation leading to irreversible psychological mortification in regards to your small penis via your immensely sadistic and bratty college crush.
Do you have a small penis? If so, you need to be psychologically destroyed, and I am just the girl to do this to you. You see, I believe that "men" who have small penises are genetically inferior and should never be able to reproduce. It is basically my goal to fuck your head up permanently, so that you will have zero confidence in yourself and will be constantly focused on what a joke you are for having been cursed with a small penis.
The thing is, I am so good at emotionally fucking up men that you will never see it coming. The manipulative tactics I skillfully employ will get you to open up to me fully on a psychological level, which, in turn, will allow me to scar you more deeply and completely. What begins as a flirtatious curiosity becomes a cruel mockery, and eventually turns into completely devastating ego-shred. I will take much joy in your tears, and being that I am your current crush at college, at least you get to provide that.
The mental anguish with which you will suffer for the rest of your life begins tonight at a party we are both attending. I'll be on the lookout for you, and you won't even know what's coming until it's way too late *kiss*
25 minutes for $29.99
Listen to "Small Penis Traumatization" Sample
Click Here
"Internet Loser Lifestyle"
In this hypnosis session, the submissive is hypnotized to want a life of complete isolation, where he almost exclusively engages in his perversion online. He is conditioned to find it more and more pleasurable to spend all his time alone at his computer, avoiding everything else except work. When he is not working, he is always engaging in his online perversions, leaving his computer for only the most basic necessities like getting food or gas. He will become a complete recluse, and give up anything enjoyable that would cost money. He will be aroused by women making him live a pathetic lifestyle, without any love or companionship, and denied of any and all outside pleasure.
He will strive to live a life totally devoid of all meaning except to interact with online women. It is a behavior modification pathway. First, the sub will accept that he is the most perverted loser imaginable, that no one in real life would want to even communicate with him. He will feel as if he should not talk with women in person, let alone touch them, because he will know he is completely unworthy. On the other hand, he will be addicted to the online dominant women because they will tell him how truly pathetic he is and how much they hate him. Every degrading hateful comment will make his cock hard. He will grow to believe that what they say is true. His only value will be to pay them and suffer for them because he is a complete freak and pervert.
The submissive will learn that he deserves no pleasure other than the hate given by online dominant women. He will begin to eat the cheapest food, perhaps even dog food. He will keep himself nude at his home, and spend only a small amount of money on clothing needed for work. He will live in a dark room with the computer screen as his only light, and only an uncomfortable milk crate to sit on. Every dollar beyond the most basic existence will be spent on dominant women. He will have an assortment of sex toys next to the computer so that the women can command him to suffer at a whim, including huge thick dildos, whips, belts, a chastity device, clothespins, and clamps. He will need to constantly pay and exhibit himself in degrading painful positions, because his life is ruled by online women that hate and abuse him. 26 minutes for $29.99
***Buy this file and get my classic hypno audio session "Heart Throb," as well as a HOT lipstick fetish clip included for free!***
Listen to "Internet Loser Lifestyle" Sample
Click Here
*This is NOT an MP3. I am just putting it on this page because of the topic matter, which is HUMILIATION.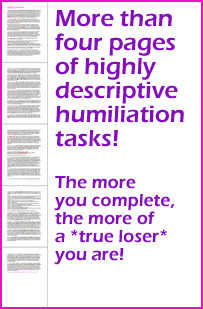 Description: This one is for my humiliation fiends! I know how much you love being told to perform embarrassing, weirdo tasks for the amusement of pretty Ladies! Well here is a list of 23 humiliating tasks that I have composed especially for you. The tasks include written assignments, photo assignments, and a couple recording assignments for those of you who can manage such a thing. There are also assignments that will take place within your household, as well as out about in public. For those, you will have to write to me about the experience, so that I can laugh at you, mock you, and maybe amuse my Lady friends by posting the documentation publicly. Engaging yourself in these humiliating tasks will be sure to have your ridiculous penis standing stiff and erect with intense shame. Start NOW!
P.S. Photo and video assignments will be kept confidential, between you and I, unless I have your permission to post publicly or to share privately with my girl friends.
Format: Word .doc
How Many: 23 humiliating tasks for you to perform
Price: $23

"Humiliation Sensitization"
Ever since you've been rejected from the vulva, you have been the unfortunate target of even more rejection and cruelty. It eventually got to the point where you began to eroticize and fetishize cruelty. You started jacking off to internet and phone humiliation, and maybe even seeing professional Dominatrices in real time. Maybe you have even gotten to the point where you've accepted your ridiculous "sex life," which consists of diddling to Femdom humiliation that you pay for.
The only problem, now, is that you've gotten so used to being ridiculed and treated like crap that you've been kind of desensitized to the humiliation that you used to feel so strongly. You want to be able to feel deep penetrating shame, relentless rejection, and utter embarrassment again, as strongly as you used to. Being humiliated makes you SO HORNY, and it causes you to cum SO HARD; you just really need to feel your shame as profoundly as humanly possible.
Well, this Femdom hypnosis MP3 will make you much more highly sensitized to humiliation once again, so that you can really feel and enjoy the emotional anguish and suffering.
Includes: erotic hypnosis, femdom hypnosis, intense humiliation, orgasm denial. 32:18 minutes for $34.99
Listen to "Humiliation Sensitization" Sample
Click Here
"Pig Slave Programming"
In this Femdom trance session, Goddess Lycia makes it impossible for you to ever diddle on your own. Instead, you will be able to make squirties only when being diddled by a woman's hand, or by being directed by a woman to use an object as a substitute for her hands. You also must be paying the woman who is diddling or directing. In this audio session, you are always referred to as either "pig slave" or "piggie."
You are put into a trance that freezes your body, so you cannot move. This makes it so that you are more submissive, vulnerable, suggestible, and controlled. You are then informed as to why you must accept my suggestions; you want to please me and other dominant women, and we will all be pleased to know you are obeying. By accepting my training, you are demonstrating that you are obedient, and that you adore me as you should. You are taught that is it wrong and selfish to squirt by diddling your own penis; it is disrespectful to women because it robs us of the money that you must always pay in order to squirt, and it prevents us from the amusement of listening to and/or watching the degrading squirt which is extracted from your silly thingie. Piggie must learn to need and love the experience of extreme shame and humiliation it feels when squirting in the presence of a woman.
Again, this session makes it so that you may achieve squirties only if 1) you are paying a woman to squirt, either in person, on the phone, or online, and 2) you are dependent on a woman's direct involvement, either from being stroked by her actual hand or by a surrogate hand (e.g. a plastic doll, a fleshlight, or even rubbing against the floor). In other words, piggie's ability to orgasm becomes completely dependent on a woman virtually or literally diddling its thingie. From this point on, piggie will feel a strong desire for a woman's hands or a surrogate, but never for her pussy, ass, or mouth, or even his own hand.
Additionally, whenever your thingie is in contact with a woman's hands or virtual hands, you will feel an uncontrollable compulsion to grunt like a pig, throughout the stimulation. To be able to actually squirt will require her permission. If she gives her consent, you will be highly compelled to squeal like a pig as you climax, right there in her presence. This squirting in the presence of a woman will be so humiliating that you will feel compelled to repeat it over and over.
Includes: erotic hypnosis, femdom hypnosis, femdom trance, mesmerism, mesmerizing, humiliatrix, humiliation, forced exhibitionism, orgasm control. 23 minutes for $24.99
Listen to "Pig Slave Programming" Sample
Click Here
"Horny Idiot Masturbation"
In this humiliation mp3, Goddess Lycia tells you how to play with your stupid thingie while she makes fun of you. She tells you about what a dorky and easily-manipulated doofus you are, and that your useless "penis" deserves to feel pain during wankie-wankie sessions. You are made into even more of a compulsive diddling weirdo pervert, who obeys a recorded voice when it tells you to do things likes slap and pinch your dick, even though the same voice is the one that is hurting your silly widdle feelings.

This audio file also contains a cum command at the end, but you will have to do it in the humiliating manner I describe.

Includes: humiliation, verbal abuse, guided masturbation, cbt. 18 minutes for $19.99
Listen to "Horny Idiot Masturbation" Sample
Click Here
"Mortification Fiend"
You think that you are just in for a sensual erotic hypnosis session, leading to a powerful orgasm. That's what I make you believe, and why would I lie?

Just relax, sweetie. It is easy for you to relax, because my induction style is so pacifying. My velvet voice is soothing you, and you are driven into a sweet state of trance.

However, once you are all doughy-brained and suggestible, I finally let loose with my sadistic side, implanting suggestions that will addict you to humiliation. Yes, you read correctly. I will turn you into a mortification fiend, regardless of whether or not you want it. Because sweet Goddess Lycia will take you so deep into a trance, that you become helpless to fight it.

*kiss*
Includes: erotic hypnosis, mind control, brainwashing, humiliation, humiliation addicted, needing humiliation in order to cum. 24:04 minutes for $24.99
Listen to "Mortification Fiend" Sample
Click Here
"Hey Diddle Diddle"
"Hey there. So, what are you up to? Oh never mind, I know what you're up to. You just paid money for an audio file by an online Domme, because it's a humiliation file, and you have a humiliation fetish. How weird!" (non-hypno)

13 mins. for $19.99

Includes: humiliation, small penis humiliation, giggles
Listen to "Hey Diddle Diddle" Sample
Click Here
"The Humiliation Box"
One of Goddess Lycia's favorite things to do is to trap you in endlessly embarrassing cycles of compulsive masturbation and impossible release, combined with humiliating and bizarre rituals and mantras. It makes me giggle to know that whenever you are at home by yourself, you are automatically triggered into this mode where you must have porn constantly playing as you diddle yourself for hours and hours on end.

Meanwhile, whenever certain things happen, you will be forced to hold yourself in ridiculous positions while chanting absurd phrases out loud. All of these positions and phrases will reinforce what a fucked-up, horny diddler you are, which will make you more horny and therefore more of a diddler. Which in turn, will make you more embarrassed and ashamed, which will make you more horny, and so on...

You will be the most pathetically sexually-aroused, chronic masturbating and porn-obsessed weirdo, but you will also be completely unable to achieve release. Whenever you get close to cumming, you will be forced to squat and chant until the urge subsides. But chanting and squatting makes you so humiliated and horny, that sometimes you are squatting and chanting for a really long time, before the urge subsides.

That's just one of the many triggers that will keep you in this increasingly restrictive box of endless and humiliating cycles. 25 minutes for $29.99

Includes: erotic hypnosis, mind control, brainwashing, intense humiliation, chronic masturbation, porn addiction

P.S. If you buy this, you are totally a ridiculous pervert who desperately craves the deepest humiliation possible
Listen to "The Humiliation Box" Sample
Click Here
"Chastity Inferno"
WARNING: Intense chastity and humiliation hypnosis that doesn't end. Have a cock cage ready and lock yourself in before listening. Plan to wear it for a long time.

This recording will cause the following feelings and behavior:

1) you will constantly be insanely aroused to the edge and point of cumming, and you will be incredibly humiliated while in chastity

2) you will desperately want to masturbate but not be able to, like a terrible insane itch that you can't scratch

3) the only way you can even partially relieve your terrible need to masturbate is by performing for women in the most degrading ways possible (being nude in front of them, crawling, dancing, sucking dildos, being laughed at, etc), even though you still are unable to cum. As you hear them laugh at you, you begin to feel partially relieved, but it only lasts for the shortest time and then you become insane again

4) you will have an overwhelming belief that every woman who looks you in the eye knows that you are locked up and is laughing at you. It makes you so embarrassed that you can barely speak to them. you will go insane craving them, wanting to just touch them, as they all despise you and want to hurt and laugh at you

5) you will be unable to take the chastity device off without a dominant woman's permission. If you are allowed to cum, the device will go back on immediately after cumming and cleaning off. If you are only allowed to remove the device for more tease and torture (without release), it will go back on immediately after the tease/torture/humping session (directed by a Dominant Woman)

6) you will be utterly unable to ejaculate with the cage on

7) the longer you wear the cage, the more powerful the hypnosis becomes. your addiction to porn grows, your need to pay women grows, your need to be degraded grows

8) if and when you am allowed out of the cage, you are unable to cum by yourself with your hand or to cum in a woman (you will have to hump a pillow, the floor, a blow up doll or some other humpable object)

This is hardcore people! I expect you to actually have a chastity cage to lock your penis in. I recommend the cb6000. This is for those who love being cum-denied, desperate, pathetic piggies for Women to use and laugh at. 45 minutes for $34.99
Listen to "Chastity Inferno" Sample
Click Here
"Jerk Off, LOSER!"
Lycia and Isabella are Princesses who call you names and laugh at you while you jerk your pathetic penis. We incessantly remind you that we are way too good for you, and that you have to pay for our attention and abuse. Includes verbal abuse, humiliation, giggling, commanding you to jerk off, degradation, teasing and denial, female superiority. 12 minutes for $19.99 (post production by Isabella Valentine)
Listen to "Jerk Off, Loser!" Sample
Click Here
"Burned"
Non-hypno humiliation session. Harsh verbal abuse by a hot Mistress who is disgusted at what a dick-wanking perverted pay pig you are. Insults, verbal abuse, humiliation, cussing, face slapping, orgasm denial, financial domination, and cutting your worthless ass the fuck down to shreds. Prepare to get burned. 30 minutes for $24.99
Listen to "Burned" Sample
Click Here
"Anal Whore Hypno"
This hypnosis / humiliation mp3 is based on a request:

i saw Your tweet about mp3 requests. i'd love to see (well, hear!) a small penis humiliation hypnosis mp3, reinforcing how inadequate the listener and their penis is, and how they can orgasm only through anal penetration (and if they have permission).

They can diddle sometimes, except that when they get permission to make squirties, they aren't allowed to cum by diddling their clitties (because Real Men cum with their cocks, and the listener certainly isn't a real man with a real cock).

The only way the listener is allowed to make squirties is if they do it from receiving anal sex (either by sex with a Real Man, or dildos). No diddling during the anal, it's only possible to cum from the penetration. If they can't cum from penetration alone, too bad!

Goddess Lycia induces you into a very deep, relaxing state of trance. You become vulnerable, suggestible, and completely open as the soft, serene music accompanies Goddess' velvet voice, drawing you more and more deeply into a state of utterly euphoric susceptibility.

Once you are emotionally open and as fully entranced as humanly possible, Goddess deeply ingrains into your brain how completely inadequate your way-too-small-to-please-a-woman "penis" is. She really rams it into your mind, that you are absolutely and positively incapable of ever pleasing a woman with your giggle stick, and that the only way you can ever achieve orgasm is through ANAL PENETRATION.

As you lie there in your trance, your subconscious mind absorbing all of this painfully humiliating and honest information, you will also be hearing the laughter of women and men, which will cause you the desire to cry combined with the desire to cum. Basically, you will be feeling more and more helpless and emotionally beaten down, but your "penis" will be getting more and more sexually aroused, your little ballzies more full, heavy, and desperate to release. Too bad the only way you can cum is if you get permission from a Domme and then fuck your ass, lol. 29:14 mins. for $29.99

Includes: erotic hypnosis, humiliation, small penis humiliation, anal penetration, orgasm denial, cuckolding
Listen to "Anal Whore Hypno" Sample
Click Here
"Small Shrinking Penis"
This is a small penis humiliation/brainwashing recording for you to diddle yourself to. The more you diddle, the smaller your already-tiny penis will become.
Includes: small penis humiliation, compulsive masturbation, brainwashing, laughter. 9:53 mins. for $12.99
Listen to "Small Shrinking Penis" Sample
Click Here